Tuesday, July 29, 2014
By Ben Wolfgang and Valerie Richardson
The Washington Times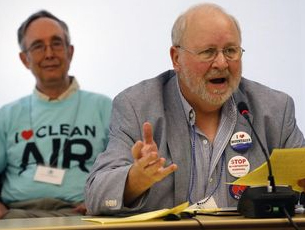 Retired coal miner Stanley Sturgill of Harlan County, Kentucky, testifies that coal fired power plants are a danger to public health, on the first of two days of public hearings held by the Environmental Protection Agency on President Barack Obama's plan to cut carbon dioxide emissions by 30 percent by 2030, in Denver, Tuesday, July 29, 2014. In hearings,
hundreds of people across the country are telling the EPA its new rules for power-plant pollution either go too far or not far enough. (AP Photo/Brennan Linsley)
DENVER | The atmosphere outside was festive, with music, free T-shirts and ice cream giveaways, but the mood inside the Environmental Protection Agency's first hearings on its proposed power plant regulations was anything but.
Hundreds of people testified Tuesday in three cities — Atlanta, Denver and Washington, D.C. — on the Obama administration's proposed rules requiring a 30 percent reduction in carbon dioxide emissions from power plants by 2030.
The hearings conclude Wednesday, with a final two-day hearing slated to begin Thursday in Pittsburgh. Written comments are being accepted until Oct. 16, with the final regulations expected to be released next year, after the November election.
The timing may not be accidental: As Tuesday's testimony demonstrated, the proposal causes bitter disagreement between environmentalists and renewable energy companies versus the coal industry, labor unions and local governments.
"[T]he environmental extremist war on coal is really a war on prosperity both for Moffat County and the entire nation," said Moffat County Commissioner John Kinkaid, whose county lies at the heart of Colorado's coal country. "Coal means that kids can go to school and get an education. Coal means that families can buy homes and put food on the table."
Mr. Kinkaid said that the county's coal-fired power plant is responsible for $428 million annually in direct and indirect economic impact.
"Maybe that's not very much money in Washington, D.C., but here in the heartland of America, it is," said Mr. Kinkaid.
On the other side was Stan Sturgill of Kentucky, a retired coal miner, who said at the hearing he now suffers from black lung and other respiratory ailments as a result of coal. He asked the panel to implement even tougher restrictions on emissions.
"Your targets to reduce carbon dioxide pollution by 2030 are way too low and do not do enough to reduce our risk from climate change," said Mr. Sturgill. "The rule does not do near enough to protect the health of the front line communities from the consequences of this pollution. We're dying, literally dying, for you to help us."
The Obama administration weighed in with a report Tuesday in an effort to justify its controversial actions on climate change, and also plans to roll out new executive moves to reduce greenhouse gas emissions.
The study shows the potential damages to the planet by delaying steps — such as harsh new limits on carbon emissions from power plants — to tackle global warming.
"First of all, we know way more than enough to justify acting today. Second, delaying action will increase the costs," said Jason Furman, chairman of the White House's Council of Economic Advisers, which produced the report. "And third … the large-scale risks associated with climate change are an argument for acting more today as a form of insurance against the worst consequences in the future."
Those supporting the regulations appeared to have the numerical edge at Tuesday's Denver hearing. Dozens of people wore light teal T-shirts with the message "I [heart] Clean Air," which were being given away by Sierra Club organizers outside the EPA building in Denver's trendy lower downtown.
Meanwhile, Climate Reality Project workers solicited comments on the proposal and gave out coupons for free Ben & Jerry's ice cream. Trucks with signs promoting the wind and solar industries, which stand to benefit from the regulations, parked across the street from the EPA building.
"Climate change is real and the impacts are being felt already through intensified storms, flooding, hurricanes, drought and wildfires," said Karen Hadden, executive director of the Sustainable Energy and Economic Development Coalition in Austin. "We are experiencing them now in Texas. We cannot afford the cost of not taking action."
A few blocks away, Americans for Prosperity held a rally next to the Colorado state capitol, giving away red T-shirts with the message, "Stop the EPA Power Grab." A prop plane flew over the capital pulling a banner with the same slogan.
Speakers from Colorado, Montana and Wyoming decried the proposed standards, which they said would result in higher energy costs and job losses while doing virtually nothing to counter climate change. Wyoming is the top coal-producing state in the nation, responsible for 40 percent of the nation's coal production.
Jess LaBuff of the Boilermakers Local 11 of Montana said the EPA's goals were "unrealistic and unachievable," while dozens of coal miners and family members arrived on five buses from Craig, Colorado, to speak out against the regulations.
"They're going to regulate us to the point where they're going to close up the coal mines," said coal miner Anthony Delgado. "It's going to suck."
• Ben Wolfgang reported from Washington.
---
ABOUT THE AUTHOR
Valerie Richardson
Valerie Richardson covers politics and the West from Denver. She can be reached at vrichardson(at)washingtontimes.com.
Ben Wolfgang
Ben Wolfgang covers the White House for The Washington Times viagra generic.
Before joining the Times in March 2011, Ben spent four years as a political reporter at the Republican-Herald in Pottsville, Pa.
He can be reached at bwolfgang(at)washingtontimes.com.
Fair Use Notice
This document contains copyrighted material whose use has not been specifically authorized by the copyright owner. SEED Coalition is making this article available in our efforts to advance understanding of ecological sustainability, human rights, economic democracy and social justice issues. We believe that this constitutes a "fair use" of the copyrighted material as provided for in section 107 of the US Copyright Law. If you wish to use this copyrighted material for purposes of your own that go beyond "fair use", you must obtain permission from the copyright owner.