Absolute cap to come into effect from 2016, climate adviser says on the day after US announces ambitious carbon plan
Tuesday 3 June 2014
Adam Vaughan
The Guardian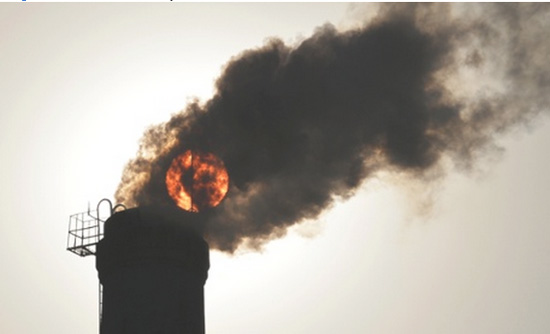 The sun is seen behind smoke billowing from a chimney of a heating plant in Taiyuan, Shanxi province Photograph: JON WOO/REUTERS
China, the world's biggest greenhouse gas emitter, has pledged to limit its total emissions for the first time.
He Jiankun, chairman of China's Advisory Committee on Climate Change, told a conference in Beijing on Tuesday that an absolute cap on carbon emissions will be introduced later this decade.
"The government will use two ways to control CO2 emissions in the next five-year plan, by intensity and an absolute cap," Reuters reported He, an adviser to the government, as saying.
China's emissions have risen dramatically in the last two decades, overtaking those from the US – the previous biggest producer – in 2006. Although the average Chinese person's carbon footprint is still much lower than the average American's, it is catching up, and is now on a par with the average European's.
The timing of the announcement – just a day after the Obama administration implemented tough new rules to cut carbon emissions from power plants 30% by 2030 – appears deliberately chosen to show China will also take a leadership role on climate change.
China set its first ever carbon targets in 2009, in the run-up to a major UN climate talks summit in Copenhagen, attended by Obama, Gordon Brown, Angela Merkel and other world leaders. The previous target was for a cut of emissions relative to its economic growth, by 40-45% by 2020, compared to 2005 levels, meaning absolute carbon emissions could still increase as China's economy grew.
But the new cap will be the first time that the country, which has been plagued by pollution problems in large part due to the burning of carbon-intensive coal, has promised to limit absolute emissions. Officials have not yet put a figure on what level the cap will be.
He told Reuters that the country's emissions were likely to peak at around 11bn tonnes CO2 equivalent – up from 7-9.5bn tonnes CO2e now – by 2030.
The move is likely to be welcomed by Christiana Figueres, the executive secretary of the UN climate secretariat, who oversees long-running efforts to reach an international deal on climate change. The Copenhagen meeting ended in a weak deal with non-binding targets, but countries have agreed to reach a new deal next year at a blockbuster summit in Paris.
Doug Parr, Greenpeace UK's chief scientist, said that the move by China, so shortly after the US announcement, showed "momentum" in the climate talks process.
"In the last 24 hours we've had two major announcements from China and the US which send a powerful signal to other world leaders ahead of crucial climate talks later this year. The Chinese government has already set out ambitious plans to cut the country's reliance on coal – an additional cap on CO2 suggests the country's leaders are serious about tackling their emission problem," he said.
The UN climate negotiations resume on Wednesday in Bonn.
Fair Use Notice
This document contains copyrighted material whose use has not been specifically authorized by the copyright owner. SEED Coalition is making this article available in our efforts to advance understanding of ecological sustainability, human rights, economic democracy and social justice issues. We believe that this constitutes a "fair use" of the copyrighted material as provided for in section 107 of the US Copyright Law. If you wish to use this copyrighted material for purposes of your own that go beyond "fair use", you must obtain permission from the copyright owner.