August 9, 2012
by: Carrie Feibel
KUHF FM News – Houston
A new report ranks all 50 states for toxic air pollutants coming from power plants. Texas comes in at number ten.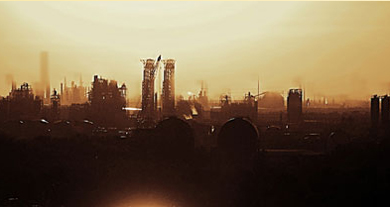 The new report is from the National Resources Defense Council, an environmental group.
It puts Texas in the top ten for toxic power plant emissions, behind some Big Coal states like Kentucky, Ohio and Pennsylvania.
The good news, however, is that power plants in the U.S. overall are releasing 19 percent less toxic chemicals than a year ago. These chemicals include mercury, arsenic and acid gases.
John Walke, an attorney with the NRDC, says there are two main reasons why:
"The first is the increasing use by power companies of natural gas which is a cheaper and less polluting fuel. The second factor is the installation of state-of-the-art pollution controls by many plants."
Walke says power companies have begun installing new technology because new EPA rules go into effect in a few years.
When you take a closer look at these pollution rankings, Texas emerges as a special case. Texas does rank #10, but it's #1 when you look at just one pollutant, mercury. That's because many Texas power plants burn lignite, a type of coal that is high in mercury.
Peter Altman is also with the NRDC:
"Mercury is the one that we have been the most concerned about because it has such profound impacts on our brains and our neurological systems, particularly those of children and unborn children."
The coal-burning power plant closest to Houston is NRG's W.A. Parish plant in Fort Bend County. It ranks fourth in the state for toxic air pollutants.
But spokesman David Knox says Parish is ahead of federal deadlines when it comes to installing the best pollution controls.
"Due to the low sulfur fuel we use and the emissions controls we've installed, on a per megawatt basis, it is significantly cleaner than a number of other plants in the nation."
The new EPA rules for power plants don't go into effect until 2015, but they are already under political attack and the focus of lawsuits.
The state of Texas is one of the states that has sued to stop the new rules.
Fair Use Notice
This document contains copyrighted material whose use has not been specifically authorized by the copyright owner. SEED Coalition is making this article available in our efforts to advance understanding of ecological sustainability, human rights, economic democracy and social justice issues. We believe that this constitutes a "fair use" of the copyrighted material as provided for in section 107 of the US Copyright Law. If you wish to use this copyrighted material for purposes of your own that go beyond "fair use", you must obtain permission from the copyright owner.