| | | |
| --- | --- | --- |
| About us: The Sustainable Energy and Economic Development (SEED) Coalition works for clean air and clean energy. We support affordable energy efficiency and renewable energy solutions to meet our energy needs. Together we can reduce pollution by using cleaner energy. Cleaner air improves everyone's health, and is especially important for our children. For several years, SEED Coalition focused extensively on cleaning up mercury pollution, and important issue since many of the nation's worst polluting coal plants are in Texas. This website includes many articles, reports and factsheets related to mercury pollution. | | SEED Coalition is grateful for support from the Arkansas Community Foundation. |
---
It's time to retire old, polluting coal plants. Here are two studies that explain why.
Addressing Pollution from Legacy Coal Power Plants in Texas
Prepared by: Daniel Cohan, Ph.D.
As Energy Future Holdings faces an uncertain financial future, three of its legacy coal-fired power plants from the former TXU feature prominently in the energy and air quality challenges confronting Texas. These 1970's vintage facilities – Big Brown, Martin Lake, and Monticello – are among the leading emitters of air pollutants and greenhouse gases in Texas. Their emissions of nitrogen oxides (NOx) – more than 30,200 tons in 2011 – have been shown to contribute to excess levels of ground-level ozone in the Dallas- Fort Worth and Tyler-Longview-Marshall regions. Substantial reductions in NOx emissions will be needed in order for these regions to attain air quality standards for ozone, a pollutant that can cause respiratory illness and premature mortality. Their emissions of sulfur dioxide (SO2) have been modeled to exceed SO2 standards up to 10 miles downwind of each plant, and contribute to unhealthful particulate matter over far longer distances. Ozone and particulate matter increasingly have been linked to illness and mortality, prompting the Environmental Protection Agency to tighten air pollution standards for these pollutants. Meanwhile, these three power plants ranked nationally among the top five emitters of mercury, a potent neurotoxin linked to IQ impairment and other developmental problems in children.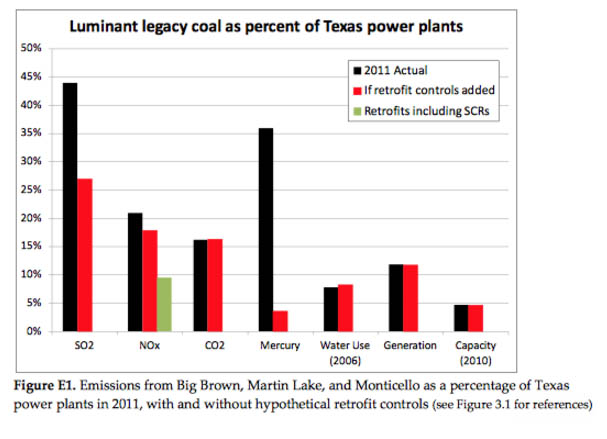 The Case to Retire Big Brown, Monticello and Martin Lake Coal Plants
Three Financially Mismanaged, Unprofitable, Outmoded and Worthless Coal Plants in North Texas
By Tom Sanzillo, TR Rose Associates
This study shows why the replacement of three coal fired power plants built in the 1970's (Big Brown, Monticello and Martin Lake) is a financial and environmental necessity. The plants, currently owned by Energy Future Holding/Luminant and serving North Texas are financially mismanaged, cannot compete profitably in the current market, require pollution control upgrades that are unaffordable and have suffered deep losses in market value.
---
Oct. 3, 2015
EPA will determine Coleto Creek's air pollution impact
The Environmental Protection Agency has identified Coleto Creek and 11 other coal-fired power plants in the state as high sulfur dioxide emitters.
Under the Clean Air Act, the EPA is required to set air quality standards for sulfur dioxide, which can cause respiratory illnesses, harm the environment and damage property.
In 2010, the agency revised its national air quality standard for the pollutant. Now, the agency is collecting monitoring data from 12 coal-fired power plants in the state that the agency found emit large amounts of sulfur dioxide.