Wind Powers Texas Economic Boom; Will Congress Set National Renewables Goal?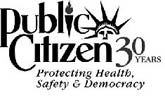 In 2001 Texas built more wind power than any state or country ever had in a single year. According to a new analysis by the SEED Coalition and Public Citizen's Texas office, The wind industry employed 2,500 people, invested over a billion dollars in Texas and in 2002 will pay $217 million in local and county taxes and royalties.
To keep the renewables revolution going policymakers can do two things in the next few weeks: support a federal goal of getting 10% of the nation's energy from renewables, and speed the planning and building of transmission lines to get electricity from west Texas wind power plants to urban markets.
Slideshow of Economic Benefits

View Online Slideshow
Take Action
To Learn More