Making Texas a Safer Place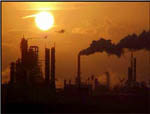 New regulations are being written to guide how Texas' environmental agency will do its job of protecting public health.
Will they be written in a way that favors public health and public participation or will they favor industry and pollution? Citizens can help make the difference.
Developed by the Lone Star Chapter of the Sierra Club, Texas Center for Policy Studies, Public Citizen's Texas Office, Consumer's Union's Southwest Regional Office and the SEED Coalition for the Alliance for a Clean Texas (ACT)
---
Consideration of Compliance History in Permitting
Problem:

When the TNRCC reviews a permit application, there is no requirement that the applicant's existing compliance history be considered. Thus, companies that have repeatedly violated Texas and Federal law could be granted permits just as easily as companies with excellent compliance records.

Solution:

The Texas Legislature directed the TNRCC to consider compliance history when considering new permit applications. The draft rule was issued in August, but it has many problems and should be changed in the following ways:

Recommendations:
Consideration of five years' worth of compliance history in permitting and enforcement decisions is not enough in some cases. Instead of having a five-year maximum "look-back," (as the agency has proposed) there should be a five year minimum "look-back."
The draft rule includes various items in a compliance history beyond the items listed in HB 2912. The rule includes items that are vaguely defined and would allow consideration of meaningless items (such as a notice of an intent to do an audit) to be included in a compliance history. It appears that these items are only included in an attempt to detract from the more relevant information of violations, enforcement orders or court judgments. These items should be removed from the rule.
Complaints and other information submitted by citizens should be considered as part of a regulated entity's compliance history.
The rule should provide that the compliance history includes information on the compliance performance of a parent, subsidiary, sister and other closely related corporations in order to discourage the use of creative corporate structures to avoid compliance history consideration requirements.
Schedule:
ACT provided early comments and met with TNRCC staff. Rules are to be proposed in late September; there will be a public hearing but it has not been scheduled yet; rule must be adopted by February 2002.
Use of Citizen Information in Enforcement
Problem:
TNRCC's existing policy has been to initiate enforcement action only if TNRCC-gathered information showed a violation. This was like the police only being able to arrest someone if the police actually saw the crime happen. As a result, many violations which are observed by the public go unaddressed by the agency.
Solution:
The proposed rules will allow TNRCC to initiate enforcement action based on citizen-gathered information if the TNRCC determines the information is "of sufficient value and credibility." The new rules are a positive step forward.
Recommendations:
TNRCC should take prompt enforcement action if citizen-gathered information demonstrates a facility is in violation.
If TNRCC does not take enforcement action based on the information, TNRCC should promptly investigate the information as a complaint and provide a written explanation of the complaint investigation and the rationale for not taking enforcement action.
TNRCC should provide ongoing citizen training on the required protocols
TNRCC should create a Pollution Watch website that teaches citizens how to collect evidence that the TNRCC can use.
Schedule:
Rules proposed: 8/22 Hearings: 9/24 in El Paso, 9/25 in San Antonio, 9/27 in Waco, 10/01 in Arlington, 10/02 in Corpus Christi, and 10/04 in Houston. All evening hearings.
Comment deadline: October 8, 2001
Scheduled adoption: November/ December 2001
Executive Director Participation in Contested Case Hearings
Problem:
Traditionally, the legal staff of TNRCC's Executive Director (ED) weighs in on the side of those applying for pollution permits in contested case hearings with citizens who would be affected by pollution from the permit. Currently in many cases, the ED's legal staff and experts provide the evidence and testimony enabling the permit to be issued, but never bolster the citizens' case against the permit. Citizens wind up arguing against their own agency in such cases.
Solution:
The Legislature directed that the ED's participation in contested case hearings be limited to only certain categories of cases. The Legislature also directed TNRCC to set clear criteria for those limited instances in which it would assist an applicant in meeting its burden of proof.
Recommendations:
The main problem with this proposed rule is section 80.108 (f), which may allow the Executive Director to participate as a party in ANY hearing for the purpose of assisting an applicant in meeting its burden of proof. This section circumvents the clear statutory language and intent of HB 2912. The section should be re-written to reflect the legislative intent of limiting the Executive Director's participation.
Schedule:
Rules proposed: August 8, 2001
Public Hearing: September 18, 2001
Comment deadline: September 24, 2001
Scheduled adoption: Possible by the end of October 2001

Incentives for Use of Environmental Management Systems (EMS)
Rule Background:
The Legislature authorized the development of rules to encourage permit holders to initiate systems to improve environmental management. The use of such systems would be encouraged by relaxing certain standards that the permit holder would otherwise be required to meet. The TNRCC's proposed rule goes too far, providing too much leniency in exchange for a system program with uncertain results.
The environmental community is not opposed to the use of certain, appropriate, incentives for the use of EMS, though we note that there are many other existing incentives for a company to adopt an EMS, including: (1) a desire to maintain compliance and avoid environmental liability and (2) the fact that many large multinationals are now requiring their suppliers to be ISO 14001-certified.
Problem:
The rules would allow a company with an approved EMS to request and be granted "modifications of state and federal regulatory requirements." Nowhere does HB 2997 or the EMS section of HB 2912 provide for such incentives.
The proposed TNRCC rule presents a very serious problem for the public. For example, under the rule as proposed, a landfill operator could adopt an EMS and then seek modification of the buffer zone, berming, waste cover, fire control or other regulations that are designed specifically to minimize impact on neighboring landowners, even though the EMS would be no guarantee that the landfill would have less adverse effect on those neighbors.
Recommendations:
No modifications of state or federal law should be allowed as an incentive for using an environmental management system.
Schedule:
Rules proposed: August 22, 2001
Public hearing: Sept 27, 2001, Austin, TNRCC, 10 a.m., Rm 131E, Building C
Comment deadline: October 8, 2001
Scheduled adoption: November/December 2001
Upsets, Malfunctions and Accidents
Problem:
Texas law allows plant operators to emit more pollution than is allowed by their permits and environmental rules if the emissions are unplanned and unavoidable. These "upsets" are supposed to be limited to emergency type situations. However, many companies use this allowance to cheat on their permit limits.
Some companies in Texas have an extremely high number of upsets each year. In 1998, companies reported as many as 344 upsets - almost one a day. Either these companies have so many emergencies that they are unsafe and should be shut down, or the companies are using the upset law as an excuse for their regular excess emissions.
Solution:
The Texas Legislature required the TNRCC to adopt a threshold for determining when a facility has had too many upsets. Once a company exceeds the threshold, it must file a corrective action plan for preventing future upsets. In addition the TNRCC is required to centrally track and report on upsets and to establish an electronic system for reporting upsets that will be accessible by the public.
Recommendations:
The rules should set a low threshold for "excessive" upsets. Companies should not be allowed to routinely emit more than allowed by their permits.
The rules should specify requirements for corrective action plans including clear deadlines for installation of necessary back up equipment and completion of routine maintenance.
The TNRCC should require electronic reporting of all upsets as soon as possible. People living around facilities emitting pollution through upset emissions have a right to know in a timely manner what they are breathing.
Schedule:
Rules not yet proposed. No specific schedule has been set.
Cumulative Impacts
Problem:
The topic of cumulative impacts refers to two problems in our regulatory process. One is that when the TNRCC reviews the pollution levels that a proposed new plant would emit, it does not consider the pollution level that is already in the area where the new plant would go. The state allows plant after plant to be built in areas that already have high pollution levels. This "pollution stacking" has made compliance with national clean air standards very difficult.
Second, cumulative impacts are experienced when two or more pollutants combine to create a greather health threat than any of the ingredients would alone. Texas does not account for these "synergistic effects" of two or more pollutants.
Solution:
The Texas Legislature directed the TNRCC to develop and implement policies to protect people from the adverse health effects of exposure to multiple pollutants.
Recommendation:
TNRCC should prioritize the development of these rules and policies with the following in mind:
To address "pollution stacking", new guidelines should be developed requiring that permit applications be considered in context of pollution that already exists.

To address "synergistic effects, there are several needs.
New standards should be developed to protect public health from combinations of pollutants, with priority given to those that are most common, most dangerous and that are found in communities exposed to multiple pollution sources.
Priority should be given to monitoring in areas where communities are exposed to mutiple sources of pollution
The TNRCC should set safety levels based on what will protect the health of small children and the elderly. Currently, effects screening levels are set based on the phsyiology of adult males, whose bodies are much more resistant to the effects of pollution.

The TNRCC should set both ambient safety levels as well as plant-wide safety levels.
Ambient safety levels ensure that that the general mix of pollutants in the air does not exceed safety levels.
Plant-wide safety levels to ensure that no single plant emits multiple pollutants in quantities known to combine and to cause extremely high, localized levels.
Schedule: The TNRCC has not issued draft rules and no specific schedule has been set.
Background:
The Texas Natural Resource Conservation Commission, or TNRCC, is the state agency responsible for protecting public health from pollution. In 2001, the agency went through the "sunset" process, which is an opportunity to correct problems and improve performance at state agencies.
Environmental, consumer and health organizations - organized under the name Alliance for a Clean Texas, or ACT - banded together to push for a number of reforms to correct long-standing problems with the TNRCC's performance.
ACT and its allies were able to convince the Texas Legislature to pass many of these reforms in the TNRCC sunset legislation. Now, these reforms must be implemented through rulemaking.
Rulemaking is the process that develops the details of how laws will actually work. The old saying "the devil is in the details" is especially true in environmental rule-making - rules can be written so they accomplish what they are supposed to or they can be written so weakly that nothing gets done.
The TNRCC is developing proposed rules to enact each reform mandated by the Legislature. Each of these proposed rules goes through a process where public comment - and comments of industry and government agencies - are taken and used to shape the final rules.
This is a critical time for citizens to be involved. Each rule can help clean up our environment, but we need citizens to be involved to help keep them strong. This brochure was developed to educate citizens and the media about the process and the new rules being made.
To learn more or to get involved, visit www.texas.sierraclub.org or call or call Erin Rogers at 512 477 1729.
printed by the SEED Coalition